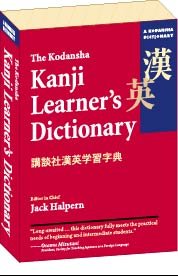 ---
Book Review by Isabel Reynolds
Daily Yomiuri Staff writer
April 19, 1999, The Daily Yomiuri



If you are a reasonably serious learner of Japanese, between beginner and upper-intermediate levels and you have not yet discovered SKIP (System of Kanji Indexing by Patterns), then it is about time you did. It cuts out the often lengthy and sometimes fruitless process of trying to find the radical of a particular kanji. Briefly, this is done by classifying kanji into four groups-those that can be divided into upper and lower portions, those that can be divided into left and right portions, those that can be divided into an enclosure and its contents, and those that cannot be divided in any logical way.
The system was originally introduced in the well-received New Japanese-English Character Dictionary, published in 1990. This new dictionary was edited by Jack Halpern, the polyglot Research Fellow at the Institute of Modern Culture, Showa Women's University. It is more compact than its parent volume, and thus slightly easier to handle, but still provides a wealth of information.
The entries cover the 1,945 Joyo Kanji, plus the 285 characters in the official Jinmei Kanji, used in names. There are all sorts of thoughtful touches that cut out many of the frustrations of wading through Japanese text. Extensive use of cross-referencing means that, even if the user makes a mistake in classifying the kanji, he or she will generally be directed to the correct entry without fail.
Many Japanese learners will have had the depression experience of looking up a kanji and learning it, only to be told by a teacher that it is not a character in common usage. That need never happen again-this dictionary gives an index of the 1,000 most-used characters in order of frequency, based on a whole year of data from a major Japanese newspaper. The most important kanji are printed in red in the main section. One can even discover at what stage of their schooling Japanese children are expected to learn that particular character, although it can be a little depressing to be reminded that one is less proficient than a primary school child.
Those who are learning to write kanji are not forgotten-step-by-step diagrams are given for the most frequently occurring kanji.
The choice of compounds given for each character is also excellent. Most dictionaries list only those that begin with the character in question, leading to the omission of important expressions. Wisely, the compilers of this dictionary concentrated on providing the most widely used words and phrases, regardless of the position of the kanji.
With its attractive, readable page layout and concise definitions, it is hard to find anything at all to criticize in this reference work, although most people would probably find it bit hefty to squeeze into a handbag, as is suggested in the introduction.

---