2. THE KODANSHA KANJI LEARNER'S DICTIONARY (KALD)
Kodansha International (1999)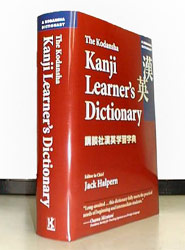 The Kodansha Kanji Learner's Dictionary answers the urgent need for an easy-to-use kanji dictionary, compact enough to be easily carried around, yet detailed enough to satisfy the practical needs of the serious learner.
Its basic goal is to give the learner a thorough understanding of how kanji are used in contemporary Japanese by providing instant access to a wealth of useful information on the meanings, readings, and compounds for the most frequently used kanji.
A unique and valuable feature is the core meaning, a concise keyword that defines the most dominant meaning of each character, which is followed by in-depth meanings that clearly show how a few thousand basic building blocks are combined to form countless compound words.
Clear, complete, and accurate character meanings, illustrated by numerous compounds and examples, are grouped around the core meaning in a logically structured manner that allows them to be perceived as an integrated unit. In addition, guidance is provided for distinguishing between easily confused characters, such as homophones.
Another unique feature is the System of Kanji Indexing by Patterns (SKIP), an indexing system that enables the user to locate characters as quickly and as accurately as in alphabetical dictionaries. Since the system can be learned in a very short time and is easy to use, this dictionary is an extremely convenient learning tool.
Modern linguistic theory has been effectively integrated with sophisticated information technology to produce a powerful tool that can be used by beginning and intermediate learners with equal ease. For the first time, learners of Japanese have at their fingertips a wealth of information on kanji that is linguistically accurate, easy to use, and carefully adapted to their practical needs.
Thanks to these and other features, this is the most useful kanji-English learner's dictionary ever compiled.